Le 12 février 2018 posté par Bloodybarbie
Line-up sur cet Album
José Pineda - Basse, Guitares
Justi Bala - Guitares
Carlos Delgado - Batterie
Cosmin Aioniţă - Chant
Style:
Heavy Metal

Date de sortie:
25 Novembre 2017

Label:
Rock-CD Records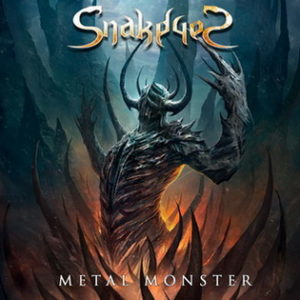 Note du SoilChroniqueur (Metalfreak) :8,5/10
Metal Monster fait partie de ces albums desquels on n'attend pas forcément grand chose de prime abord et c'est après deux ou trois écoutes successives qu'on en comprend la richesse.
C'est en 2013 que le bassiste José Pineda, alors dans Sphinx depuis presque vingt ans, décide de monter son projet solo SnakeyeS. Très vite, deux de ses compères de Sphinx, Justi Bala (guitares) et Carlos Delgado (batterie), ainsi que le chanteur Cosmin Aioniţă (9.7 Richter, Claudio Minotti's Liturgy of War) le rejoignent pour sortir un premier EP trois titres dans la foulée (Welcome to the Snakepit en 2013), puis un album deux ans plus tard (Ultimate Sin) pour le moins excellent. C'est en 2017 que sort un single ("Sign of Death") annonciateur d'un nouvel album, Metal Monster, à la fin de l'automne.
"Into the Unknow" déboule et, d'entrée, on se prend une bonne petite claque derrière la nuque : les Andalous ne sont pas là pour plaisanter et nous le font savoir : Power Metal bien plombé, tempo enlevé, riffs costauds, section rythmique épileptique, et un chant énorme ! Et tout l'album nous donne une impression de puissance : l'ombre des Judas Priest ou Iced Earth plane au dessus de la musique de SnakeyeS avec un côté carré et martial à l'Allemande. On pense régulièrement à des Blind Guardian, Helloween, Primal Fear ou même à Accept lors des passages plus heavy. SnakeyeS possède en outre avec Cosmin Aioniţă un vocaliste puissant qui n'a pas grand chose à envier aux ténors du genre : sorte de compromis, toutes proportions gardées, entre un certain Rob Halford, Udo Dirkschneider et Ralf Sheepers, il arrive à donner une réelle profondeur à des titres, qu'ils soient rapides ("Into the Unknown", "Evolution", "Cyberkiller", "Metal Monster", "Sign of Death", "Circus of Fools") ou plus heavy (l'énorme "(Point of) No Return", "Edge of the World", "Facing the Darkness", "Your own Shadow", l'épique "Rise up (the red Plague)" et ses huit minutes de pure folie, le bonus "The Hunt"), mais est surtout capable de transformer n'importe quel refrain quasiment en véritable hymne du Metal.
Rajoutons à tout ça un véritable sens de la mélodie avec un lot de soli impeccable et on a le cocktail !
Les Espagnols de SnakeyeS nous offrent un bon compromis entre le power metal estampillé US et le Heavy/Speed à l'allemande, le tout pour un album sans le moindre compromis.
Puissant et efficace : que demander de plus ?
Tracklist :
1. Into the Unknown (4:15)
2. Evolution (4:39)
3. (Point of) No Return (4:44)
4. Cyberkiller (5:08)
5. Metal Monster (4:50)
6. Edge of the World (4:21)
7. Sign of Death (5:17)
8. Facing the Darkness (4:38)
9. Your own Shadow (4:10)
10. Circus of Fools (5:09)
11. Rise up (the red Plague) (8:16)
12. The Hunt (bonus track from exclusive "Mask of Reality" bonus single) (4:36)
Site officiel : http://www.snakeyes-metal.com/
Myspace : https://myspace.com/snakeyesmetal
Facebook : https://www.facebook.com/SnakeyesMetal
Twitter : https://twitter.com/SnakeyesMetal
Youtube : https://www.youtube.com/user/snakeyesofficial
Retour en début de page