Le 27 mars 2020 posté par Metalfreak
Line-up sur cet Album

Nikolaj Ersbøll Ross - Batterie / Stephen Torpe Andersen - Guitares / Lukas Rautenberg - Guitares, Chant / Nikolaj Madsen - Basse. Guest : Christian Bonde Sørensen - Chant sur 9.
Style:
Heavy / Thrash Metal

Date de sortie:
27 Mars 2020

Label:
Mighty Music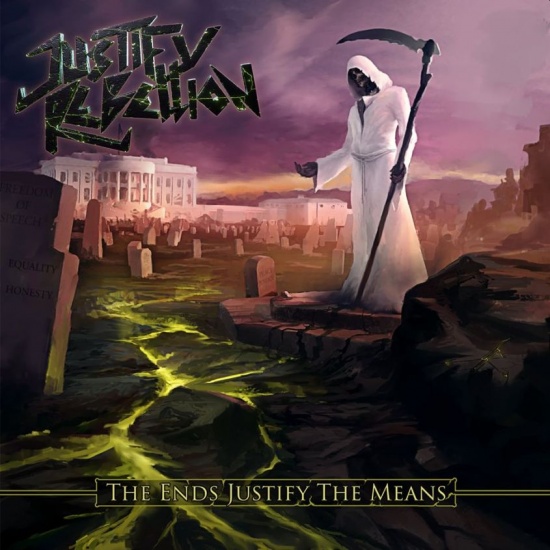 Note du SoilChroniqueur (Metalfreak) : 9/10
Le Danemark, ses wienerbrød et smørrebrød, sa Carlsberg, ses groupes de talent (Artillery, Force Of Evil, Hate Sphere, Mercenary, Mercyful Fate / King Diamond, Pretty Maids, Volbeat…) avec un nouveau représentant pour cette scène : Justify Rebellion.
Quintette de Slagelse formé en 2014 qui aura sorti un single ("Beast") en 2017, un premier album, "Unleashing the Beast" en 2018, et les voilà déjà de retour avec leur second méfait "The ends justify the Means". Justify Rebellion évolue dans un Heavy/Thrash Metal aux influences old school qui combine des éléments modernes et groovy avec une aisance insolente : imaginons Metallica rencontrant Volbeat et qui chercheraient à écrire ensemble des titres influencés par Artillery ou Grip Inc, avec un petit arrière gout de Slipknot impalpable. On situe mieux ?
Sur les neuf titres – dont un interlude instrumental – Justify Rebellion nous envoie un Heavy Metal plombé, racé, aux relents thrash bien réels, avec une énergie flagrante de tous les instants, que ce soit lors de titres véloces ("Crowd Control", "Prisoner in Time", "The Bringer of War", le long et final "Throne of Greed") ou de morceaux plus heavy et sévèrement burnés (le quasi hymne "Salvation", "Shameless", "Syretrip", "The Summoning"), avec pour dénominateur commun un groove constant et un sens de la mélodie impeccable, avec des soli aux petits oignons.
Et ce qui marque d'entrée, c'est le son : produit et enregistré au CB Studios à Jutland (Danemark) par Christian Bonde Sørensen, également responsable du son pour The Cleansing, Mordax, Memorial ou Meridian (et qui se paie le luxe de venir pousser quelques vocalises sur "Throne of Greed"), il apporte puissance et précision sur des titres d'un genre musical exigeant, et arrive à équilibrer chaque instrument de sorte qu'on les perçoive parfaitement, que ce soit les guitares, la basse et la batterie, avec un chant qui n'est ni en retrait, ni en avant. Riffs heavy, soli rapides, jamais le son de Justify Rebellion n'a été aussi puissant ! Quant aux (parfois longues) plages instrumentales, elles sont juste parfaites : impossible de trouver le temps long à l'écoute de cet album. Mieux encore, on le trouve trop court avec ses tout juste quarante minutes.
Hautement recommandé !
Tracklist :
1. Präeludium (4:08)
2. Crowd Control (5:38)
3. Prisoner in Time (1:15)
4. Shameless (3:33)
5. The Summoning (3:21)
6. The Bringer of War (3:43)
7. Salvation (5:50)
8. Syretrip (4:39)
9. Throne of Greed (7:28)
Retour en début de page