Le 10 février 2018 posté par Bloodybarbie
Line-up sur cet Album
Stéphane Thirion : chant, tous les instruments
Style:
Black Métal

Date de sortie:
21 Septembre 2017

Label:
Indépendant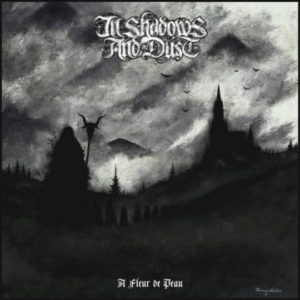 Note du SoilChroniqueur (Arno) : 6,5/10
Déjà le troisième album pour Stéphane Thirion, l'homme-orchestre derrière In Shadows and Dust, toujours en indépendant même si j'ai déjà entendu largement pire sur des labels de renom mais là n'est pas le propos.
A fleur de peau, c'est douze titres et quarante minutes de Black Métal qui me font souvent penser à du vieux Impaled Nazarene ou encore à Axis of Advance. Ce n'est peut-être pas du tout l'influence du gars mais c'est ce qui me vient en tête à l'écoute. Peut-être est-ce dû au chant, à la rapidité des tempos, aux aspects chaotiques des solos ou encore à l'esprit guerrier qui anime le disque… Quoi qu'il en soit, il y a de gros relents War Métal dans le Black de In Shadows and Dust, je n'ai rien contre, loin de là.
Si ce pur produit de l'Underground français n'est pas non plus la révélation de l'année, on appréciera toutefois la rigueur de l'ensemble, le goût marqué pour le sale et le brutal ainsi que la passion qui anime l'homme. J'ai toujours beaucoup de respect pour ces solitaires qui parviennent à donner forme à leurs pulsions morbides…
Tracklist :
01 : A fleur de peau
02 : Hate
03 : Betrayal
04 : All is Black
05 : Falling into Shadows
06 : Slay
07 : Take my Soul
08 : Empty World
09 : Storm of Revenge
10 : Mind War
11 : Guillotine
12 : Black Heart
Site officiel : https://www.inshadowsanddust.com
Facebook : https://www.facebook.com/InShadowsandDust
Youtube : https://www.youtube.com/watch?v=chjhc37145I
Bandcamp : https://inshadowsanddust.bandcamp.com
Retour en début de page