Le 23 novembre 2022 posté par Metalfreak
Line-up sur cet Album
M – Chant, Basse, Guitares
Guest : AZ – Claviers sur 9
Style:
Black Metal

Date de sortie:
30 avril 2022

Label:
Werewolf Promotion / The Ritual Productions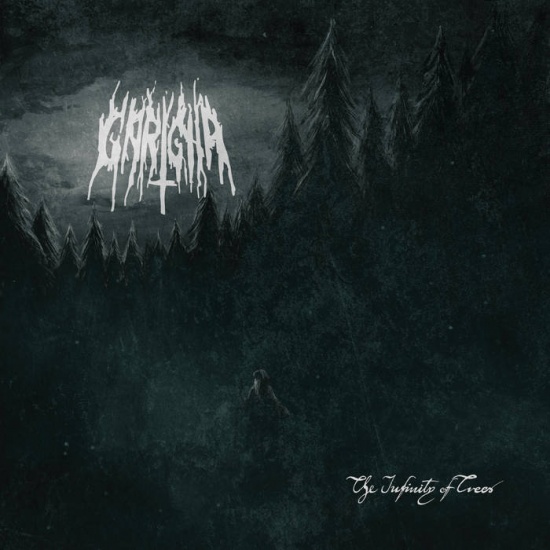 Note du SoilChroniqueur (Metalfreak) : 7,5/10
On va la faire courte : Garigha est le projet solo d'un certain M (non, pas celui de chez nous avec sa coupe de cheveux improbable) qui nous vient tout droit de Katowice (en Pologne pour ceux qui ont des connaissances limitées en géographie) et ce The Infinity of Trees est son premier album.
M, ou Michał Garyga, est également guitariste du duo de Black / Funeral Doom Lifeless Gaze et ancien guitariste des Blackeux tout aussi Polonais de Useless.
Avec Garigha, on a droit à un Black Metal aux influences à chercher dans les racines du genre : les spectres des premiers Darkthrone, Immortal ou Burzum ne sont pas loin.
C'est au moyen de neuf titres, dont trois courts intro et interludes instrumentaux, que le gaillard nous offre un voyage méditatif dans de vastes forêts enneigées.
C'est au moyens de longs titres, axés sur de nombreux riffs répétés à l'envi, que Garigha pose subtilement ses compositions au moyen de quelques tremolos par ci, quelques blasts par là, un chant Black des plus classiques, ponctué de cris déchirants et une batterie électronique qui donne le tempo de l'ensemble.
La longueur des compositions, entre sept et seize minutes pour les titres chantés, ne semblent pas être rédhibitoires tant le musicien met de la conviction dans son Black Metal, les titres pourtant très répétitifs devenant pour le coup hypnotiques, voire addictifs.
Les interludes ("Burial of the Days of Yore" et "The Infinity of Trees"), quant à eux, sont dissonants au point d'en devenir inquiétants. Le deuxième annonçant un très Burzumien "The New Life Blossoms" pour le moins fascinant.
En guise de dessert, un long instrumental ambiant de six minutes avec une nappe de clavier des plus calmes d'un certain AZ histoire de finir sur une touche mystérieuse.
Une invitation au voyage, qu'on vous dit !
Tracklist :
1. In the Forest (Instrumental) (0:33)
2. Last Days Here (7:27)
3. Burial of the Days of Yore (Instrumental) (1:32)
4. Dreadful Cold (10:20)
5. A Pain That Lasts Eternally (10:56)
6. Hidden in the Woods Made of the Past (16:09)
7. The Infinity of Trees (Instrumental) (1:04)
8. The New Life Blossoms (7:51)
9. Between the Misty Mountains (Instrumental) (6:05)
Retour en début de page